Having talked about the current state of football broadcasting in Australia - on both free-to-air and subscription television - I'm now going to talk about the future. This blog will contain a lot of speculation, some rumors, but mainly suggestions as to how the current broadcast situation could be improved to benefit football fans.

Let me say first, that I don't believe the current state of football broadcasting is that bad - if you have read my previous blogs on the topic, you will have read a lot about this. The arrival of Setanta Sports onto the scene last year - coupled with coverage of the biggest football leagues on Fox Sports and ESPN, has meant even hardcore fans are now fairly well catered for.

There are definately 'gaps' though - areas for improvement - important football matches being played, but not being shown. As well as this there is also the matter of Free-to-Air coverage. Pay-tv is always going to be the only place for the dedicated football fan, but it would be nice to see a little more football coverage on the FTA networks. These are the two topics this blog will be addressing - how hardcore fans can be catered for with more comprehensive coverage via pay-tv, and how some basic level of coverage can be provided for those without foxtel. Here it is, the 3rd, and final, part to my blog on Australian football broadcasting.

Part 3 - The Future

Free-to-Air Football:

Anyone with pay-tv will know how great it is for football fans. From watching 5 EPL games at once on Saturday nights, to guranteed live coverage of every A-league game. There are some, however, that truly cannot afford pay-tv. While for others, it's not a priority. There are plenty of 'casual' fans out there - who may only be interested in watching a game every now and then, it's completely understandable that you don't want to pay $50 a month, just for that.

Pay-tv also suffers from not being as accesible as FTA. You can pay to have Foxtel installed in your house, but if you happen to be on holidays, at a friends house etc - then there's no guarantee you will have access to foxtel. You can't just plug an antenna into a TV and start watching. Therefore, I believe that one way football broadcasting in this country really needs to be improved, is through more FTA coverage.

So what coverage of football would be best suited to FTA television? I've talked previously about all the advantages pay-tv has when showing football, and about the problems with FTA. This is why I would suggest that, rather than showing extensive live coverage of football, FTA networks should get hold of highlights packages.

This would be the best way for one of the big commercial networks to get a piece of the A-league. Coverage would suffer if games were shown live on FTA TV - you only need to look at Seven's recent coverage of the Olympic football to see this. If showing a highlights program, however, ad breaks are natural, and if the timeslot gets moved around a bit it's not a big deal.

Let me discuss a few points of interest regarding football on FTA:

- A-league/Socceroos

The A-league, along with Socceroos matches, are the showpiece for Australian football - and I think it would be good to see some coverage on FTA

Hypothetically, I think this would work well for the A-league:

- Fox Sports shows all A-league games live over the weekend
- Fox Sports produces a 40 minute highlights show, airing on Fox Sports on Monday Evening (around 6pm)
- Channel Nine (maybe 7 or 10) then shows this program at 10:30pm on Monday night

It would give the A-league some FTA exposure, while Fox Sports would still pay big money to keep exclusive live coverage, also fans wouldn't have to worry about coverage suffering as it would all still be produced by Fox Sports.


The reason I mention Channel Nine as a potential destination for the A-league, is that Nine have expressed interest in the past. Channel Nine have approached Fox Sports twice, first before the 2007-08 season, and again earlier this year - trying to convince Fox to give them rights to show 1 game each week. Channel 9 shows cricket during the Summer, but generally cricket matches are played on Friday and Sunday nights (apart from Test matches, which are finished by 6pm) so Nine sees a Saturday night A-league game as a perfect fit.

It was rumored that, on their second attempt to get some A-league rights from Fox, Nine were prepared to pay a few million dollars just for 1 game a week. Fox turned down the offer, which is not suprising because Foxtel is always very keen to keep exclusive content.

Although it led anywhere yet, this is a strong indication of the interest that is there from commercial networks. I would expect that we will not get any significant coverage of the A-league on FTA untill the TV rights are next negotiated by the FFA (even then, Fox may be prepared to pay through the nose for exclusive rights), but it is good to know that there is at least interest from the FTA networks. If nothing else, it will drive up the price for TV rights in a few years, which can only help Australian football.

Personally I would rather Nine make a move for rights to Socceroos matches - simply because I think the Socceroos are the perfect team to promote football in Australia - and it would be good if all Australians could watch them play. There has been talk that Nine wants to show the Socceroos' remaining World Cup qualifiers, but it doesn't seem likely that this will eventuate any time soon.

It is very likely that in 2014, when the current TV rights deal has finished, we will see at least some A-league coverage, and some Socceroos coverage on FTA TV. Whether or not it happens before then is entirely in the hands of Fox Sports and Foxtel. Fox has every right to try and hang onto one of it's top products, but it would be nice if they were to (at least) try and help out football in this country by giving FTA networks some amount of coverage. One could argue, that if there was an A-league highlights show on FTA, it would be a great advertisement for Fox Sports and Foxtel.

Ideally, I would encourage Fox Sports to make a deal with Channel 9 (if 9 are willing), and have Nine broadcast a weekly A-league highlights program, as well as delayed coverage of Socceroos matches. Fox would still be the only place to watch live football, but with a bit of football on FTA, it would surely grow the game.

- SBS... Where to from here?

SBS have long been the only FTA network to take football seriously, unfortunately the amount of football they show continues to dwindle. Their weekly Sunday afternoon football programming, known as "The World Game", is still the only weekly football programing on Australian FTA TV - long may it continue.

It does need some improvement though, the "Football Feature" part of the show is a great idea in theory, but the fact that the game played is usually from the middle of the previous week, or a week beforehand, is a little dissapointing. SBS should try and negotiate a deal with Setanta (who have proven a friend of SBS lately) so that they replay one of Setanta's matches from the night before.

Setanta has rights to the top leagues in France, Germany, Italy and Scotland and now has the rights to the FA Cup, as well as international football. Setanta would, in exchange for some free advertising and a bit of money, be happy for SBS to take one of these games each week, and replay it as their 'football feature'. SBS needs to make this happen.

Although it has dwindled lately, SBS has managed to keep some live coverage of football. Apart from tournaments like the FIFA World Cup and Euro 2008, SBS' only regular live coverage is from the UEFA Champions League and the UEFA Cup. In a worrying sign for SBS, their rights to the Champions league expire at the end of the current season, and if rumors are to be believed - they are unlikey to extend these rights, as coverage will go to only one provider, and SBS can't compete with the likes of ESPN financially. I really hope this is not the case, and I hope SBS does whatever they can to maintain rights to at least 1 game a week from Europe's premier club competition.

It has been suggested that one way for SBS to get back some football coverage would be to show local state leagues and grassroots Australian competitions. Personally I disagree with this - SBS is a world broadcaster, and in my view should focus on overseas football. One way they could do this better would be to have a weekly wrap of all the big football leagues around the world. I'm not talking about what they already do on "The World Game", I'm talking about a more in-depth show, dedicated exclusively to world football. The best timeslot for a show like this would be on Monday nights. They could look back at all the weekend's action, show highlights from all the different leagues (thanks to the fairly open media rules in Australia, they would be allowed to quickly go through leagues like the EPL and show all the goals, without paying for any rights), give an update on league tables, and keep all fans up to date with how their club is going. I think this type of show that would be well suited to FTA and SBS.

As far as other content goes, SBS needs to try and hang on to their FIFA rights for as long as possible (currently they have the rights to all FIFA tournaments untill 2014), or at least share these rights with a bigger commercial network - it will be difficult for SBS to keep exclusive rights to the World Cup after the ratings they enjoyed in 2006. Euro 2008 was also a nice coup for SBS, and I hope they do everything they can to have some coverage of all European Championships in the future - it's the type of tournament that belongs on FTA (at least in part).

I have enjoyed SBS's occasional broadcasts of Olyroos/Matildas matches over the past couple of years, and I hope they continue with those sorts of games, but I really do think it's time for SBS to focus a little more on international football, rather than Australian football. Of course the problem with this is that they are the only ones on FTA who talk about football at all, which is why I really hope another channel invests in some football programming - as I talked about above with the A-league and Socceroos.

- W-league


The Women's A-league (or W-league) is set to kick off this October, and it will have a broadcaster. I am 95% sure that it will be broadcast on FTA TV. The quality might not be up there with the A-league, but it will be very refreshing to see some regular coverage of Australian football on FTA. The broadcaster will either be SBS or the ABC, and I'm hoping that it ends up being ABC (as seems likely). ABC has broadcast netball and women's basketball in the past, and I think the W-league would be a good fit for the ABC.

It is likely we will see a Friday night game shown live on ABC2, with a replay over the weekend on ABC1. If we are really lucky, the ABC might show two games a week, maybe a live Sunday afternoon game - but that remains to be seen. You can expect an announcment to be made regarding the W-league broadcast rights within a week or two - probably next week.

- Is football big enough for FTA?

Many accuse the FTA networks of treating football like junk, there is no doubt that some networks have tried to prevent the sport from growing, but nonetheless, the FTA networks won't ignore football forever. The executives of Seven, Nine and Ten are just starting to see that football is indeed a product that can make them money.

In the past it has been NRL and AFL that have been the most sought after sports for the FTA networks, but they each have their problems - namely that neither is popular nationwide. Seven/Ten payed a huge amount for the AFL TV rights last year, but although the AFL makes them a lot of money, it doesn't really help their ratings in New South Wales or Queensland. This is causing FTA networks to look at football as a potentially superior product to both the NRL and AFL.

During the past year or so, football has had the occasional chance to prove how well it can rate - in 2005/2006 the Socceroos smashed ratings records for SBS and late-night viewing, more recently the LA Galaxy v Sydney FC match last year rated well for Ten, and Seven and SBS both had good viewing figures for football during the recent Beijing Olympics (as terrible as Seven's coverage may have been). I'm sure that FTA networks will be keen to continue to experiment with football coverage, and if they continue to get good figures, the FFA could be looking at a very big pay-day when the rights are next negotiated in 2013-2014.

I'll talk a little more about FTA TV when I look at an 'ideal scenario' later on, but now I'm going to look at pay-tv, and how it could (or will) be improved in the coming years:

Expansion of Pay-TV Coverage:

If you read my last blog you'll know all about how important I think pay-tv is in the football broadcasting 'picture'. I discussed in that blog a little about the future, and what could be done to provide an even better level of coverage - now I'm going to talk about some specific improvements that need to, or that could be made.

- More Channels?

Foxtel is planning to add as many as 20 new channels next year, so the chances of more sports channels for pay-tv subscribers are fairly good. Here's some of the channels we could potentially see:

- Eurosport Asia Pacific


Eurosport Asia Pacific, a channel already avaliable to Australian viewers through Selectv, is one possibility (discussed in my previous blog). The channel is likely to feature extensive coverage of all FIFA youth and womens tournaments. Eurosport and FIFA have an agreement, which allows Eurosport to broadcast the Beach Soccer World Cup, Futsal World Cup, Womens World Cup and the Men's and Womens Under 20 and Under 17 World Cups.

I am still not 100% certain if this also applies to Eurosport Asia Pacific - we will see later this year when the Futsal World Cup and the Womens Under 20 and Under 17 World Cups are played. Hopefully Eurosport extends this deal beyond 2010, so that we can always have good coverage of these tournaments.

Apart from FIFA tournaments, we could also see coverage of UEFA tournaments (like the Under 19 European Championships), the African Nations Cup and other international matches. Potentially we could even see coverage of the UEFA Cup or some European domestic football.

- Sky Sports News


Another potential new channel, with a lot of football content, is Sky Sports News. For a brief period last year, Fox Sports News used to take a feed from Sky Sports News between midnight and 6am, so Australian viewers have see the channel before. It appears likely that it may become a full time channel on Foxtel next year. If this happens, we will be completely set as far as results and live updates go, although Sky Sports News only has limited access to footage.

- Fox Sports Football Channel

There have been some rumors during the past year or so regarding a dedicated football channel from Fox Sports. It would make a lot of sense, given the amount of football that Fox Sports has access to now now - and the rumors about other content they might be interested in.

Whether or not the rumors have any basis is another matter, but here's some of the content the channel could potentially have:

- A-league
- EPL (With additional coverage/analysis from Sky Sports UK)
- Coca-Cola Championship
- Asian Champions League (more games shown with interactive coverage)
- Socceroos Matches
- International Asian Football
- Asian World Cup Qualifiers
- Youth/Womens Asian Tournaments
- Olyroos/Matildas/Young Socceroos games
- Asian Club Football
- J-league (which Fox Sports already has the rights to)
- K-league
- Chinese Super League
- Major League Soccer (Coverage from Fox Soccer channel in the US)
- South American Football (Argentine or Brazilian Leagues)
- A nightly wrap of all things football

There's no denying that the potential for a channel is there. Unfortunately the rumors I have heard regarding this channel are that, although it was being considered by Fox Sports, they have decided not to go ahead with the plan. However the recent launch of a new show from Fox Sports (Fox Sports FC) did fuel a bit more speculation. If you look at the show's logo, it does look suspiciously similar to the logo of the american, "Fox Soccer Channel".

Fox Sports Football Channel, prehaps?

- More channels from Setanta
Despite not being an 'official' Foxtel channel, Setanta Sports has made quite an impact, and has already gained some popularity since it's move onto foxtel a little under a year ago. The major problem with Setanta (as discussed on my previous blog), is that there is just not enough air time for the vast amount of football that they could be showing. It has, therefore, been suggested that Setanta will be looking at an additional channel in Australia before too long. My feeling is, however, that we won't see this for at least 12 months. Hopefully it will happen one day though.
- Other Potential New Channels
There are a number of channels that you can recieve in several countries, such as Gol TV (an American channel) and Goal TV (an Asian Channel), if Foxtel is looking to expand it's channel lineup, it wouldn't be too hard to rebroadcast one of these channels for Foxtel viewers. I have heard no specific rumors, but we will see.
It would also be fairly easy for Foxtel to include specific club channels in it's lineup. Real Madrid TV is already avaliable on Selectv, it's definately possible that other channels like this could one day end up on Foxtel.
One more thing to mention is foreign language channels. While probably not of interest to most, there are several channels on Selectv and UBI World TV (two small satellite operators) that offer football coverage from smaller countries, in that countries local language. Foxtel already has a couple of channels like this -RAI International and Antenna Pacific, which show coverage from the Italian (granted, that's a big league) and Greek leagues - expect more of this on Foxtel in the next few years.
There are a few other channels that would make sense, maybe ESPN2, Fox Sports 4 would be nice, but this is just pure speculation.
- Expanded Coverage
Football coverage on Foxtel is fairly comprehensive, but I'm now going to discuss it's shortcomings, and where coverage will (and could) be improved over the next few years.
- Asian Football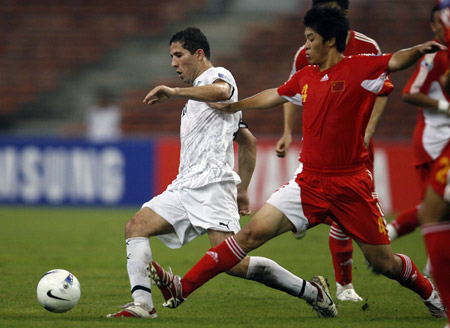 This is one big area where I think coverage needs to improve. It would be great to see some coverage of the J-league and K-league in Australia - and it would be great to see more coverage of the Asian Champions leauge as well as other AFC tournaments. Coverage of Asian football is probably going to have to come from Fox Sports, or maybe SBS. ESPN and Setanta are both focused pretty heavily on European football, and that's probably appropriate. Fox Sports, however, have rightly developed a bit of a focus on Asian football lately.
Starting next month, Fox Sports will have coverage of every single Asian World Cup qualifier as the road to 2010 reaches it's climax. This is exactly the sort of coverage that I would like to see more of. Much of it will be at a good time of day for Australian viewers, and I think Asian football is great to watch - of course the Asian region is now very relevant to Australia since we joined the AFC.
Hopefully Fox continues to expand it's coverage of Asian club and international football, but with their limited resources they are never going to be able to really cover Asian football comprehensively. This is why Fox needs to make use of the resources of other networks like Star Sports. Better yet, Foxtel could see if they can get ESPN Star to start an Australian version of Star Sports (that would focus on Asian football, as well as cricket and other Asian Sport from ESPN Asia/Star Sports Asia). Virtually every country in Asia has access to Star Sports, and it would be awsome if Australia did as well. The amount of quality sports content from ESPN Asia and Star Sports is huge, and it's a great potential source of content for Foxtel.
- European Football
Most big European leagues are now covered in some form, hopefully with more channels this coverage will continue to improve. There are, however, a couple of leagues that aren't being covered, that prehaps should be.
The Russian league is fast becoming the 6th biggest league in Europe, and games are played at a fairly decent timeslot for Australian viewers, so it would be nice to see some coverage from Russia. I'm not sure which channel would be most likely to pick up the rights, prehaps Fox Sports would consider covering it, but I would rather see coverage on Setanta - or maybe even Eurosport.
The UEFA Champions League is something I've always loved to watch, and I'm a little dissapointed that we still don't get great coverage of it here. ESPN shows most champions league games, but a lot of their coverage is delayed, and neither SBS or ESPN even has widescreen coverage or European commentators. If Fox Sports were to buy the rights to the champions league, they could take coverage from Sky Sports UK, use viewers choice, and provide coverage worthy of such a great competition. In 2009 the rights to the champions league are up for grabs, chances are that only one broadcaster will win the rights - so I really hope Fox Sports spends the money and picks up this competition.
If it stays on ESPN, as expected, I hope that they will start a second channel and show at least 2 games at once - that would at least be an improvement. If Setanta manages to get the rights, at least we should see widescreen coverage, but the chances of multiple games being on at once is fairly low.
- South/North American Football
With Setanta, we now get decent coverage of the two big South American club competitions, and ESPN have coverage of the MLS, but it would be good to see coverage from the Argentine or Brazilian leagues. I don't know who is most likely to show these leagues, but hopefully someone picks them up.
It would also be good if Fox Sports could start showing some of the MLS. ESPN only ever shows games that they also show in the US, and Fox could pick up the rights to games that are shown on Fox Soccer channel in the US. Fox Soccer channel is another potential source of programming for Fox Sports - especially for North/South American football - Fox Sports should definately look to make use of their resources.
An Ideal Scenario:
Now that I've said all I wanted too about broadcasting of football in Australia, I'm going to wrap everything up by presenting my 'ideal scenario' for which channels should have which riawqzxghts, which new channels should be launched etc. Here's what I would like to see:
- FTA:
- ABC/ABC2
- Coverage of the W-League. (1-2 Live games a week, maybe a highlights show)
- Coverage of State Leagues/Local Competitions (probably only to local markets)
- Coverage of Womens/Youth National Teams. (Although I'd be happy for these to be shown on Pay-TV)
- SBS
- FIFA World Cups (Possibly with a commercial network), Confederations Cups, Other FIFA Tournaments
- European Championships
- UEFA Champions League and UEFA Cup
- FA Cup (Personally I'd like them to show this more extensively)
- Highlights from big European Leagues
- Commercial Network(s)
- Socceroos Matches (Delayed coverage of Friendlies and Asian Cup Qualifiers, Live World Cup qualifiers)
- Asian Cup (With Fox Sports)
- Highlights of the A-league (maybe some live coverage)
- Asian Champions League (either highlights or 1 game per matchday)
- Pay-tv:
- Fox Sports (1,2, 3 and 4)
- A-league (all games live, plus highlights, extensive coverage)
- A-league Youth League (maybe a game a week live, plus highlights)
- Asian Champions League (all games live with viewers choice)
- Asian Cup (all matches live, as well as coverage of qualifiers)
- Socceroos Matches (all games live)
- Other Asian Football (World Cup qualifiers, Youth Asian Cups, Womens Asian Cups etc.)
- English Premier League (most games live, highlights of all games, extended analysis etc. with content from Sky Sports)
- English Lower-Leagues and League Cup
- UEFA Champions League (Most games live)
- Major League Soccer
- ESPN (ESPN, ESPN2 and ESPN HD)
- Spanish La Liga
- Italian Serie A (Premium Coverage)
- UEFA Cup
- Major League Soccer
- International football from Europe/North America
- Setanta Sports (1 and 2)
- Scottish Premier League
- French Ligue 1
- Italian Serie A (Lower quality games)
- German Bundesliga
- Dutch Eredivisie
- Portuguese Liga
- English Conference
- FA Cup
- International Football from Europe and South America
- Copa Libertadores, Copa Sudamericana
- Copa America (South American Nations Cup)
- Brazilian and Argentine Leagues
- Eurosport Asia Pacific
- FIFA Tournaments (Womens, Youth, smaller tournaments)
- UEFA Tournaments (Womens, Youth tournaments)
- African Nations Cup
- Russian League
- Coverage from smaller European leagues
- Club football from Africa
- International football from Europe and Africa
- Star Sports Australia (I don't think it's really likely we will get this channel, but it would be nice)
- J-league
- K-league
- Chinese Super League
- West-Asian leagues
- AFC Cup
- Gulf Cup
- East Asia Cup
- Other International football from Asia
Wrap-Up, Final Remarks
Well, that's it. I have said all I wanted to about football broadcasting in Australia. I will definately do more blogs on the subject at some point, when new deals are made, more broadcast rights come up for negotiation etc, but for now - that is the end.
Some would ask why I would spend so much time on such a series of blogs. The answer is that they aren't really intended to be blogs that I will read right through. I intended them more as a record of where we are at at the moment - it will be very interesting to read this again in a few years, and see how far we have come - to see if we still have the same sort of problems, or if my ideal scenario has been achieved. I would hope that within 10 years or so we will be able to take it for granted that any significant game of football will be shown live - I can't wait for the day when I can just turn on the TV and always be able to watch live football from somewhere in the world.
But for now, the situation really isn't that bad - as I have outlined there are many areas which need to be improved, but even since I started thinking about and writing this blog there have been significant improvements. Let's hope the situation continues to improve untill that ideal scenario can be reached. Let's also hope that the FFA can continue to get more money from TV rights, so that Australian football and the A-league can benefit.
Bye for now,
Matt